This is the first of a five-part blog series about the locations that SexTherapy-Online regularly serves. SexTherapy-Online is an online sex therapy and sex counseling practice that serves the residents of Maine, Massachusetts, New Hampshire, New York, and Texas.  Each state has a unique population to serve and unique issues facing the state.  This blog series will discuss each state in detail.
I'm kicking off the New Year and this new blog series with the beautiful state of Maine.  Each blog will discuss my personal ties with the state including some of the places I have traveled within the state as well as a paragraph or two about the sexual issues and concerns facing Mainers and any unique trends or considerations around sex and intimacy specific to Maine.  Pack the car and the cooler and buckle up, because we are about to go on a road trip to the beautiful state of Maine!
My Long History with Maine
My relationship with Maine isn't just as an online sex therapist serving the residents of Maine.  I grew up vacationing in Maine in a family cottage off of Shore Road in Ogunquit, Maine in York County.  My family has owned the small one-room beach cottage (that eventually got renovated by my father and uncles in the 70's to be a two bedroom vacation cottage) and the land surrounding it for over a century.  While some of the land has since been sold off, the cottage and the traditions still exist and the cottage still is within the family.  Every few years or so I stay in it off season to enjoy the Maine winters (briefly of course!) and visit in the Summer to enjoy the true fruits of Vacationland!  I still have family that lives in York and spend summer vacations in Southern Maine and Phippsburg in Sagadahoc County.
I still frequent Eliot and Kittery often when I am in the Northeast and have several friends who live and work in downtown Kittery, what a new a vibrant hub Kittery Foreside is becoming!  I love the history of the Portsmouth Naval Shipyard and the Isle of Shoals.
Acadia National Park (the second most visited National Park in the United States) in Hancock County is still one of the most breathtaking National Parks in the United states and I hiked and camped there as a child.  I also used to show my horse at Maine International Morgan Horse Show in Bangor in Penobscot County in the 1990's, but that horse show has since moved to New Hampshire (which I showed there in 2012 and 2013).  Each year, my family and I also head to Freeport in Cumberland County for some holiday shopping and we enjoy  the L.L. Bean flagship store, which is open 24-hours-a-day, 365 days a year.
I love Mainers, and the state of Maine.  It's a unique and quirky place, with a rich history and geography and an even richer demographic.  It's size and diversity of living areas make it challenging for the residents of Maine to have access to sex therapy services.  SexTherapy-Online can help bring high quality sex therapy to the residents of Maine, no matter how close they are to a city like Portland, Lewiston, or Bangor.
Sex Therapy Challenges in Maine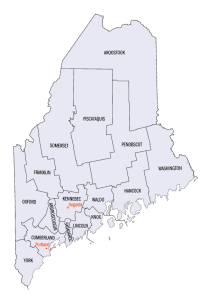 Most people don't realize the shear size of Maine.  Maine is roughly the size of ALL of the New England states COMBINED.  Maine has sixteen counties, with Aroostook County, at 6,453 square miles, covering an area greater than the combined size of Connecticut and Rhode Island.  Maine's largest city, Portland in Cumberland County, the largest city, only has less than 70,000 people (according to the 2014 Census) and Maine only has a total population of 1.3 million.  While Maine is the least populated state that I work in, it is the most underserved with the least amount of Certified Sex Therapists out of any of the states I work in.
While the size of Maine, the population, and the lack of qualified and certified sex therapist pose unique sex therapy challenges for residents of Maine, geography also is a factor to consider.  Maine has a diverse geographical landscape.  There is the Lakes and Mountains Regions that includes Bethel, Bridgton, Harrison, Eustis, Stratton, Farmington, Fryeburg, Jay, Livermore, Livermore Falls, Kingfield & Carrabassett Valley, Lewiston, Auburn, Naples, Norway, South Paris, Rangeley Lakes, Rumford, and River Valley.  Very rural and at times a little challenging to get to, online sex therapy offers a convenient option for sex and sex addiction therapy for the residents of Oxford, Franklin, Somerset, Androscoggin, and Kennebec Counties.
Maine is home to over 3166 islands, both fresh water and ocean islands.  While many are small or uninhabitable, many people live on these islands and either access the island by public ferry or by private boat.  Downeast Acadia Islands like Mount Desert Island, which includes Bar Harbor, Eden, Hulls Cove, Salisbury Cove, and Town Hill; Mount Desert, with the villages Northeast Harbor, Otter Creek, Pretty Marsh, Seal Harbor, Hall Quarry, and Somesville; Southwest Harbor, with the villages of Manset and Sewall; and Tremont, with the villages of Bass Harbor, Bernard, Gotts Island, Seal Cove, and West Tremont, Beals, Great Cranberry, Little Cranberry, Frenchboro, Swan's Islands.  Midcoast-Penobscot Bay Islands including Isle au Haut, Islesboro, North Haven, Squirrel Island, Vinalhaven and Fox Islands, Monhegan, Matinicus, and Criehaven.  Lower Midcoast-Muscongus Bay Islands including Hupper Island and Oar Island and Casco Bay Islands including Chebeague Island, Cousins Island, Cliff Island, Great Diamond Island, Peaks Island, Long Island, and Cushing Island, just to name a few (PHEW!).  And one can imagine, it's not that easy to get to the sex therapy regularly when you have to take a ferry to the mainland!  Islands add a unique consideration on accessing quality sex therapy and sex addiction services in Maine.
And speaking of difficulty traveling, the average annual snowfall in Maine is 50 to 70 inches in the Coastal Division, 60 to 90 inches in the Southern Interior and 90 to 110 inches in the Northern Interior. That's a LOT of snow!  In fact, in February 2015, Eastport, ME in Washington County set a statewide snow record for 76″ of snowfall in a 10 day period!  Eastport is the most easternmost city in the United States and consists entirely of islands.  It's not easy to get to your sex therapist when you have 76″ of snow out your door AND you live on an island!  This makes Maine a very unique state to practice sex therapy in!
Sex Therapy with Mainers
My Aunt mentioned over the holidays that in order to be considered a true "Mainer" you need to not only live in Maine or be from Maine, but you have to have "three generations in the ground".  Assuming this means at least three generations have lived and died on Maine soil, that is a pretty tall order!  Mainers are hearty, strong folks with strong belief systems who are not often raised to be comfortable speaking and sharing about sex and sexuality.  And since many Mainers live in rural areas, they are often isolated from friends, relatives, potential partners, and a diverse social and sexual landscape.
A lack of comfortability in talking about sexual matters and isolation can be risk facts for sexual issues, dysfunctions, and sexual compulsivity and sex addiction, often making folks living in areas like Maine prone to sexual issues.
SexTherapy-Online can help deal with the sexual issues of residents living in Maine.  If you or someone you know is struggling with a sexual issue or sexual compulsivity, please use the form below to contact me.  You don't have to suffer sexually.  There is help.
I also have some colleagues in Maine that specialize in sex and relationship therapy that I would recommend for in-office therapy.  Dr. Ron Feintech and his staff a The Couples Center in Portland, MA (www.thecouplescentermaine.com) are excellent resources for those struggling with sexual issues in Maine.
And whether you are located in Maine or another state, you can always locate a certified sex therapist using the American Association of Sexuality Educators, Counselors, and Therapists (AASECT) to find a sex therapist in your state: https://www.aasect.org/referral-directory